Welcome to the 2006 Lecture Tour
A U-turn is long overdue. Pet owners and the wider community need to:
First: Stop
Second: Survey the road in all directions
Third: When safe to do so, indicate and complete the turn
Fourth: Accelerate smoothly in the OPPOSITE DIRECTION
Yes, that's what we need to do: Travel in the
opposite direction
.
No more feeding junk pet food and no more acceptance of vets who peddle harmful diets and who charge for treating but not preventing a host of junk food induced diseases.
In recent years a bastardised form of raw feeding has emerged. Based on the fantasy that dogs are omnivores the 'barf' (colloquial term for vomit) diet is promoted by merchants selling pulped concoctions of meat, vegetables and artificial supplements. It's another spin on the Pet-Food Fraud.
Please come along to the U-turn Tour and contribute to discussions on how pet owners and the wider community can better understand and combat the:
Five Facets of the Pet-Food Fraud
Pets — cruelty, ill-health and suffering
Science — misused and abused
Frontier science — blocked
Economic, human health and natural environmental consequences
Dysfunctional democratic, administrative and legal systems
---
Australia
Literary Dinner

Hosted by
Kirribilli Books
Shop 12
Bligh Street, Kirribilli NSW 2061
Date: Tuesday 28 March 2006
Time: 7pm to 10pm
Café Luigi
3 Broughton Street
Kirribilli NSW 2061
Cost: $50 per person. Bookings essential
Phone Kirribilli Books - (02) 8920 2118
Email: kirribillibooks@bigpond.com

Photos
---
Australia
Suncoast Fundogs Agility Club Inc - 22nd and 23rd April 2006

Date: 22 April 2006
Gangee Meeting Hall
Caboolture Showgraounds
Beerburrum Road, Caboolture

Food and drink available for purchase
Tickets:
$12 each (Buy 5, get one free).
Cheque or money order to
Suncoast Fundogs, RMB Lecture
PO Box 100
Morayfield QLD 4506
Phone (07) 5496 1411

Follow-up session

Date: Sunday 23 April 2006
Time: 11am - 2pm
Nichols Farm
399 Cove Road
Woodford

Tickets:
$8 a head. Includes a sausage sizzle lunch.
Cheque or money order to
Suncoast Fundogs, RMB Lecture
PO Box 100
Morayfield QLD 4506
Phone (07) 5496 1411

---
Belgium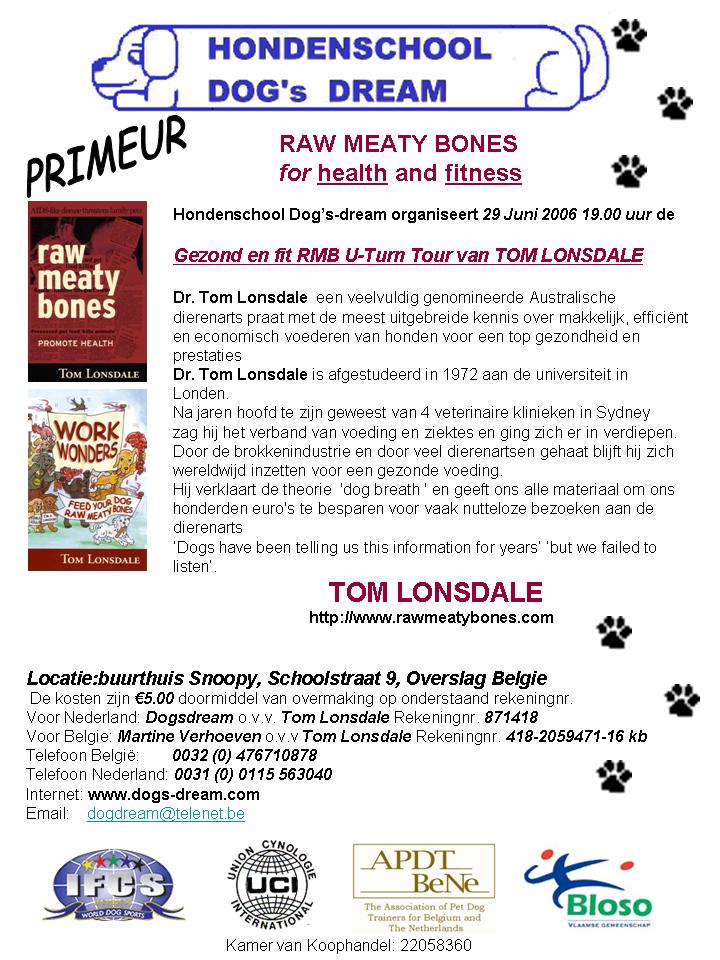 ---
Holland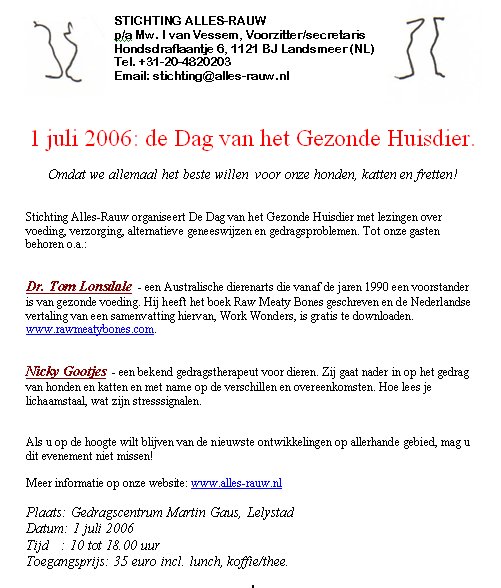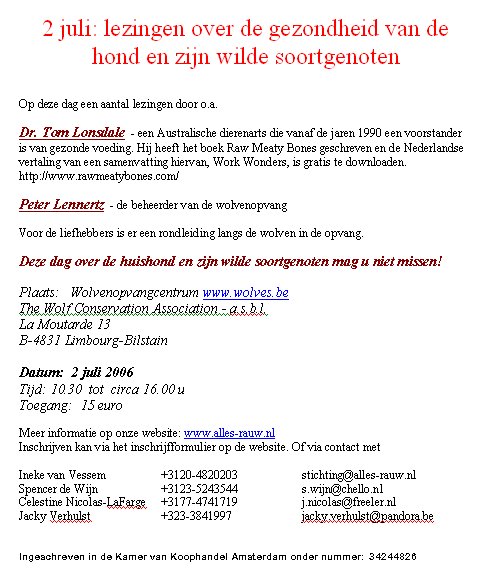 ---
United Kingdom
Briefing for Members of both Houses of Parliament
Date: Wednesday 12 July 2006
Time: 5:00pm - 7:00pm
Room Q
The Parliamentary Offices
Portcullis House
Bridge Street
London SW1A 2LW
United Kingdom

This meeting has been arranged by UKRMB www.ukrmb.co.uk, is hosted by David Lepper MP and is by 'invitation only' for all Members of Parliament.
It's vital that Members of Parliament learn about the full effects of the Pet-Food Fraud and can thus enact laws that will usher in fabulous benefits for pets and people once we accelerate smoothly in the opposite direction.
UK Residents:
Please encourage your Member of Parliament to be there.
List of UK MPs:
http://www.parliament.uk/directories/hciolists/alms.cfm

It's best to address letters to:
Mr/Ms/Dr NAME MP
London SW1A OAA
UK

UK residents can use a free fax service at:
http://www.writetothem.com/

For more information and help with writing to your MP please email:
info@ukrmb.co.uk

Non UK Residents
You can schedule briefing sessions with your elected representatives
It's the best way to get existing anti-cruelty and consumer protection laws acted upon and for new laws to be introduced to curb the excesses of the pet food industry/veterinary alliance.
---
United Kingdom
Wisbech Seminar
Date: Sunday 6 August 2006
10:30am ready for 11:00am start
Tickets: £6:00 each


Jubilee Hall
Smeeth Road
Marshland St James
Wisbech
Cambs

Contact Debbie : 01945 430498 / 07724 150525
Don't miss this chance to learn how to WORK WONDERS and achieve optimum health for your dogs, cats and ferrets.
---
Australia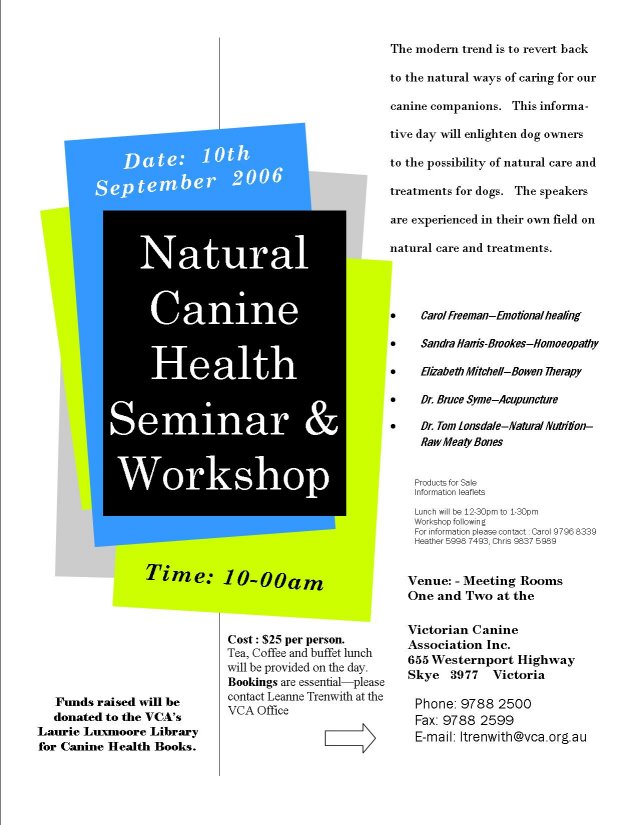 ---
On the Internet
Friday September 22 through Sunday September 24, 2006
Dr Lonsdale will be online at 9:00PM EST Saturday 23rd Sept
( 11:00AM Sydney time Sunday 24th September 2006)
---
The Pet Food Debacle: Dental and medical research perspectives
Weekly Seminar Series
Cellular and Molecular Pathology Research Unit
Faculty of Dentistry
The University of Sydney
Westmead Hospital, NSW
Lecture Theatre 3
October 17th, 2006, 8am
Video and transcript
Speaker profile

Flyer
Abstract
Periodontal disease and leucopenia and Cybernetic Hypothesis
---
Do you have ideas for a seminar?
Please contact us